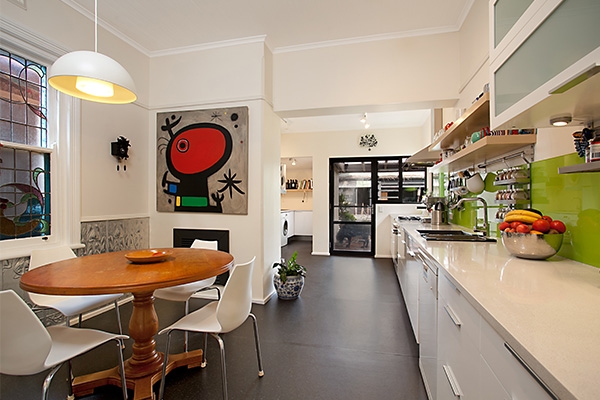 Hamilton
Home extension
The aim of this project was to create a larger kitchen, dining and laundry area. This was achieved by knocking out a double brick wall on the ground floor of the two storey residence. The wall to be removed was supporting the external double brick wall of the first floor of the circa late 1800s home, with the goal of keeping the existing roofline.
To achieve the open plan living space as desired, a large galvanised Universal Beam was to take the load of the wall above. In order for this important stage of the project to be a success, a strategic plan was developed and followed by all associated contractors on site.
The project was a great success. The beam was encased in plasterboard, square set and was painted to match the texture of the adjoining white set rendered walls at either end of the bulk head, making the bulk head look like it was always there.
The clients are to be commended on their versatile flair for interior design. Their selection of black aluminium louvre windows and doors, white polyurethane kitchen and black lino complemented the new living space with contemporary design and sat well against their selection of circa 1800s pressed tin wall panels installed to the walls.